Tengwar Eldamar version 3
Font for Windows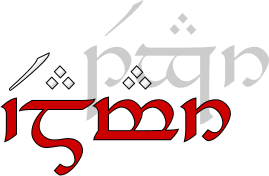 Tengwar Eldamar is a font for writing the Feanorian letters, or Tengwar. The font is designed to follow the same style as its siblings, Sarati Eldamar and Valmaric Eldamar. I have used this font for all samples of Tengwar in this site, except for the hand-written calligraphic specimen.
Contents of the font download:
tengel__.ttf: Tengwar Eldamar font file, in TrueType format
tengel_a.ttf: Tengwar Eldamar Alt font file, in TrueType format
tengel_pfb.zip: ZIP file containing font files in PostScript Type 1 format
tengwareldamar.pdf: Documentation in Adobe PDF format.
News in Version 3
The triple-dot tehtar and the horizontal lines have been adjusted to combine better.
Several characters have been improved for greater clarity or to better reflect Tolkien's writings.
Three new characters have been added in the Alt font.
Font sample