Tirion Sarati version 2.0b
TrueType font for Windows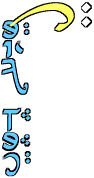 This is an experimental TrueType font based on Rúmil's writing system, the Sarati. It was developed when only one Sarati text had yet been published, and only includes the characters used in the Early Form of the script. Since the Sarati is written vertically, for each new sarat you will have to make a line break. Then you will most likely want to adjust the line height. Oh, and to make all sarati line up, you must add a space before those sarati that aren't preceded by a diacritic. I did mention it was experimental, didn't I?
News in revision 2.0b
After experiencing much trouble with the symbol font encoding, Tirion Sarati is no longer encoded as such.
A long overdue update of the documentation has been made.
News in revision 2.0a
The font is now encoded as a symbol font.
Embedding is now permitted, e.g. in Adobe PDF documents or Microsoft WEFT.
News in version 2.0
The keyboard layout is rearranged. The sarati can now be found at their Roman letter equivalents, more or less.
Additional variant sarati have been added for

/t/

,

/d/

,

/n/

.
The paths of most letters have been simplified to improve the appearance of the font.